Fridays at Secrets of a Former Fat Girl is Twitter Question of the Week day, and I want to hear from YOU! There is so much we can learn from one another, and this is a great place to show us your sparkle!

Want to join in? Just follow me on Twitter, and watch for the Twitter Question of the Week (posted by 8am CST on the previous Wednesday). All replies received via Twitter or Facebook by 10am on Friday will get posted with a link back to you!


What is the craziest fad diet or diet gizmo you've tried?
Oh the extreme things we'll do when the answer is so simple and crystal clear - eat clean and exercise! Here's my answer:



Probably the craziest fad diet I've done is the Master Cleanse Diet. I lasted 2.5 days before I caved in. I have no idea how some people stay on it for a few weeks! My craziest diet gizmo is the U-Gallop. My mom bought it for me this past Christmas, and yes I actually use the thing a few times a week, and yes I feel really silly using it. I have to say I do feel like it is helping me tighten up my core and inner thigh area, but I am working out with a personal trainer 5x a week as well, so I can't really say if this thing works definitely or not. If anything, it's a great conversation starter!

Thank you all for participating this week!
Hey hey, it's my birthday and I'm *
cough cough mumble mumble
* years old today!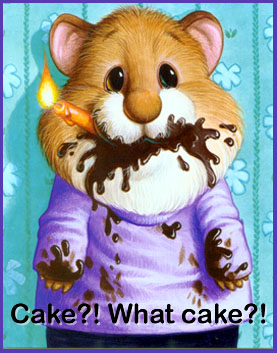 And guess what .......
Drumroll please .......
Uh huh ... keep drumming ....
Oh yeah ... good news is coming up ...
Yep, just a little bit more ...
Are ya ready?
I HIT MY
100 LB
WEIGHT LOSS MARK TODAY!
OH YEAH!!! I weigh myself every morning, so seriously, I stepped on the scale like I was on auto-pilot, saw the number and stepped off. Then I was like WTF??
So I stepped on again.
Same number.
Stepped off the scale, picked it up, shook it a little, then stepped on it again.
Same number.
Stepped off the scale, wiggled it into a different spot on my bedroom floor (maybe the other spot was uneven or something), and stepped on it again.
Then the screaming began. LMAO
My daughter ran into my bedroom all freaked out - when I explained why I was screaming, she hopped up on my bed and started jumping and bouncing around LOL (My son slept through all of this lol) I had my daughter step on the scale to make sure it was reading right, and it's spot on.
Sweet baby Jesus ... I've lost 100 lbs!!! Well, 100.2 lbs to be exact ;)
And the weigh-in basically set the tone for the rest of my morning ... my girl woke up my son so they could "surprise" me with breakfast in bed, and made me strawberries and blueberries with yogurt and a bit of Kashi Go Lean Crunch! They know their mama well, and made sure to measure out all the ingredients according to serving size. Way to go kidlets!
My daughter then brought out a special box that Jeannie and Carrie sent me waaaay back in March - it was a top secret box that was only to be opened when I hit my 100 lb loss goal. It was so exciting to FINALLY open it! Well, it was exciting to watch the KIDS open it! LOL

Carrie did such an amazing job packing the box - there were pretty gerbera daises artfully arranged with two wrapped prezzies and two letters - one each from Jeannie and Carrie. I wish my kids had been a little more civilized before they tore into that box so I could have snapped a photo ... but here's the "aftermath" ...



I got a sweet water bottle - it's way cool and even has a dial to track how many bottles you drink during the day, and a Nike+!!!!! Thank you Jeannie and Carrie!! I can't WAIT to try my Nike+!! My iPod isn't the right generation to use the adapter, and my son's iPod Nano - which was the right generation - went through the washing machine, so it's out of service. I intend to upgrade to an iTouch 32GB (which is compatible with the Nike+) but that's not for a few months. I really want to start using my Nike+, so I'm going to splurge some of my birthday money on a Nike+ Sportsband so I can get started right away. Wheeee!!!!

I'm now off to the gym for a HIIT cardio workout with TrainerGuy. The kids are whispering quite loudly about some sort of scavenger hunt they need to put out for my birthday while I'm gone. I better scoot out of here so they can get to work. :)

I hope everyone has a grand day! Operation Fat Blaster team members - be sure to visit our new Headquarters to get the scoop on our first Special Ops Mission of the Week!

xo,



"The secret of staying young is to live honestly, eat slowly, and lie about your age." Lucille Ball